Simply put, a cryptocurrency exchange website is where buying, selling, and exchange of cryptocurrencies take place. Aside from cryptocurrencies, the cryptocurrency exchangers allow the exchange of cryptos with digital currencies such as the US dollar and Euro. Aside from trading and exchanging cryptocurrencies with digital currency, users can also make use of different tools to check the values of cryptos, and for other purposes. You may need a verified ID and sign up an account to make use of a typical cryptocurrency website, however, you can find some that do not require ID verification or opening of account in order to use the Cryptocurrency Market.
There are three basic types of cryptocurrency exchanges used to trade in the cryptocurrency market, these are;
Trading platforms
The direct trading platform
Brokers
The trading platforms are cryptocurrency exchange websites where buyers and sellers are connected to exchange cryptocurrency with money. A typical trading platform is not the best cryptocurrency exchange website because its functions are limited. The direct trading website is where crypto currency exchangers from all around the world can exchange cryptos with other cryptos or digital currencies. The issue here is that a direct cryptocurrency trading platform does not have a fixed market price, but sellers are allowed to set their own exchange rates. The brokers are websites where one can buy or sell cryptocurrencies based on the prices set by a broker. Brokers can be likened to dealers in foreign exchangers
What are the features of the best cryptocurrency exchange
It's always ideal to do some little research on the cryptocurrency market as well as the suitable cryptocurrency exchange platforms, before registering for any. The most important characteristics of the best cryptocurrency exchange platform include the following;
Good reputation
the ideal exchanger must have positive reviews across all platforms, especially from individual users and industry websites. The exchange website must also have high ratings on cryptocurrency forums and must be recommended by brokers.
The ideal currency exchange must have a transparent fee policy as regards all transactions
The fees for deposit, withdrawal, and transactions must be clearly displayed and no hidden fees must be charged.
The best exchanger offers flexible payment methods for its users
The more options of payment a cryptocurrency exchange website offers, the better it is. While some pay limit payments and withdrawals only to credit and debit cards, others may include PayPal, Bank Wire Transfers, and some other online payment options. The reason for more flexibility of payment options is that purchasing and selling of cryptocurrencies with credit and debit cards will require strict identity verification which some users are not comfortable with. Credit card transactions are also subjected to high fraud risks, however, flexible payment options like PayPal offer simpler and more secure transaction.
Secured verification procedures
ID verification is always a must for the most secured cryptocurrency exchangers, especially those in the United States, UK, Europe and Asia. The best cryptocurrency exchange will help its users remain anonymous while verification may take between several hours and days, just to protect the website users from scams.
Transparent and accurate exchange rate
The cryptocurrency market is a volatile one, hence, the exchange rates between cryptocurrencies or between cryptocurrencies and digital currencies, change quickly.
The best cryptocurrency exchanges platforms
Cex.io
Cex.io is most common for the trading of Bitcoin, though other cryptocurrencies have been introduced for exchange and trading on the platform. This platform is not a currency investment website; hence you cannot find the tools for investment here, however, all kinds of exchanges, buying, and selling of cryptos are available. The personalized and user-intuitive trading dashboard available here is one of its best features, this platform also works as a cryptocurrency market brokerage firm that advice beginner traders on how to buy cryptos that they can trade with. This platform provides a convenient wallet to store cryptocurrencies before and after an exchange or trading.
The main advantage of Cex.io has a good reputation as well as security, likewise, the platform supports mobile devices and can be found on IOS, Android and IOS platforms, hence it can be downloaded and launched immediately. This platform will support all major credit cards, and it is beginner-friendly. Cex offers a very decent exchange rate that attracts most cryptocurrency exchangers to the platform. The main disadvantage of this platform is that it offers an average customer support that has come under negative reviews recently, though the administrators of the website have since improved on this. Secondly, this platform offers a quite tedious verification procedure and making a deposit can attract a high fee.
Coinbase
Coinbase is probably the best-known cryptocurrency exchange on the market and is most listed in the top sites to visit to trade in virtual coins. You are likely to have heard of Coinbase as a provider of digital wallets, which help you to store your digital assets.
Coinbase was set up in 2012 and operates from San Francisco. However, it is one of the most global exchanges, with the ability to trade in 32 countries. In these countries you can trade in Bitcoin, Ethereum and a hole host of other coins with traditional, fiat currency. In 190 other countries you can transact in Bitcoin and store your cryptocurrency.
The Coinbase founders are Brian Armstrong and Fred Ehrsam. Ben Reeves from Blockchain.info was also one of the co-founders but later left the company. The company has gained credibility due to huge investments by venture capital companies such as Union Square Ventures, Andreessen Horowitz and Ribbit Capital. It has formed partnerships with overstock, Dell, Expedia, Dish Netwrok and Time Inc. The company hit over 1 million users in 2014 and is the owner of the Blockr blockchain explorer service and the web bookmarking company Kippt.
Coinbase offers two core products. These products include the GDAX or Global Digital Asset Exchange – which allows users to trade a variety of digital assets – it essentially brokers Bitcoin, Bitcoin Cash, Ether and Litecoin for fiat currency. The second product is an API for developers and merchants to use in their site to accept payment in digital currency.
Binance
Binance is one of the leading crypto-currency exchanges on the internet. The name of the site comes from a compound of the words binary and finance. This references the binary blockchain technology that underpins digital currency.
The exchange is led by Changpeng Zhao and the team at the exchange has experience both on wall street and in crypto-finance. The team behind Binance have a proven record in successful start-ups, so understand the needs of entrepreneurs across the globe.
The Binance platform has actually been deployed on more than 30 different exchanges and is supported on all devices, with multiple languages and an easy to use interface. The matching engine is capable of processing 1.4million orders per second – second fastest crypto-exchange in the market.
An exchange is as strong as the partnerships it forges. Binance has extensive links to industry leaders and advisors, all of which provide credibility, security and trust in the services offered.
The site promises high liquidity and support of multiple coins – including Bitcoin, Ethereum, Litecoin and the Binance Coin BNB. The BNB runs natively on the Ethereum blockchain and there is a total supply of 200 million coins. BNB helps you pay for trading fees on the exchange, is used by Monaco on its platform and can be used to buy virtual gifts. In reality they list prices for 122 cryptocurrencies and have the resources to extend to all 804 tokens currently listed.
It is free to deposit with Binance. You will pay a 0.1% trading fee per transaction. There is a withdrawal fee, which varies depending on the currency you are withdrawing.
Bitbond
Bitbond is owned and run by Radoslav Albrecht. It is free to join and has a minimum investment of just $2. It is a site aimed at investors and those seeking a loan. The site is based on the philosophy of quick and easy transactions – whether looking to invest or whether you wish to take out a loan. It is unique in that it is the world's first global market for small business loans. It cuts down the time and the expense of getting funding for new small-scale ventures.
The site helps a borrower and lender to create a contract to exchange a set amount of bitcoins. The loan duration can be from 6 weeks up to 5 years. Each borrower is given a rating before they are able to publish a loan request. To get a rating you need to be verified by the site – having gone through a financial assessment.
The loan request is in the market for up to 14 days, at which point investors can bid in an auction. Part of the contract that is issued, once an agreement is made, is a schedule of repayment. This is posted in the member's area and personal account after the successful completion of the auction.
The site pays for both borrower and investor. The borrower gets the funding they need to move their business idea forward with a reduced amount of bureaucracy and financial burden to the institution offering the loan. The investor gets a steady stream of revenue from the repayments on the original investment. There is no limit to the amount you can invest, therefore there is no limit to the amount you can retrieve in repayments.
Bitmex
The CEO of BitMEX is Arthur Hayes. He has worked at both the Deutsche Bank and Citi before working at this cryptocurrency exchange. He left banking as he felt the future of finance was in virtual money.
To be able to trade on BitMEX you merely need to verify an email. From this point there is no limit to the amount you can trade. The fiat currencies accepted include USD, JPY and CNY – representing three of the biggest crypto markets of the US, Japan and China. The exchange supports the following cryptocurrencies: Bitcoin, Zcash, Ethereum, Ethereum Classic, Monero, Ripple, Augur, Litecoin and Factom.
The fee structure for BitMEX is not as transparent or straightforward as other sites. They have a maker fee, a taker fee and a settlement fee. This varies between coins. The fees range from between 0 and 0.25% per transaction.
BitMEX is known for having the widest choice in trading services. You can enter into many different types of order, including: market, limit, stop, take profit, iceberg, hidden, close on trigger and post only. Be aware that there are additional fees for the hidden portion of an iceberg order.
BitMEX has an excellent interface for those fully initiated in cryptocurrency trading. It is complex but provides lots of options and information, which is excellent for those in the know and capable of making multiple complex trades. The website is fast and responsive and translates well to mobile platforms – whether android or iOS. Users report an excellent experience with the website, particularly those who enjoy having all the information to hand.
Changelly
Changelly has been operating since 2015, though its history begins in 2013 with the team from MinerGate. The site offers the exchange of over 90 altcoins, using the latest market rate. You can also buy altcoins using a bank card – though, as yet, the site does not offer conversion from digital currency to fiat currency. You will though be offered the best prices to exchange between cryptocurrencies on its well-designed and efficient interface, offering secure and quick transactions.
The mission of Changelly is to remove potential technical barriers between customers and the cryptocurrency marketplace. It is a link between the user and trading platforms like Polonex, Bittrex and more. The idea is to offer security and anonymity – with 2FA and HTTPS security protocol.
The exchange has over 1.5 million users globally and is processing 15,000 transactions each day. This successful cryptocurrency exchange site has a monthly turnover of 60K BTC. The appeal of this exchange is mostly thanks to the transparent charges on the site. Changelly only ever charge 0,5% transaction fees, and that is all.
If you are a crypto service, Changelly has also developed an API and a customisable payment widget. This widget and API solutions provided to publishers and merchants. The API is a means of providing third parties with payment options. The widget can be used by publishers who want to keep buyers and sellers on their site, even when exchanging.
Chanelly is partners with Mycelium, Jaxx, Coinmarketcap, Coinpatments, Uquid debit card, Coinomi and more. These partnerships show the trust and security offered by the website.
Coinigy
Coinigy offers digital currency trading that is made easy – anytime and anywhere you wish to trade. It is a company based in Milwaukee in the US
The site allows you to trade on over 45 exchanges using a single account. This means you can trade on hundreds of currencies and then store these safely in your Coinigy's wallet. If you are new to trading, then Coinigy have produced a library of resources to help you learn how to make the most of your account with the site.
Coinigy is a cloud-based platform, with 99.9% uptime thanks to the Google Datacenters. However, the site's main advantage are the metrics offered on the site. These metrics provide actionable insights that support trading. Not only that – but you can trade from the chart where the information is provided. This means you can access the trade where the good news is delivered.
You can also use the platform to set up alerts – either to your phone as a text message, to your email account, or with in-browser alerts. These alerts are triggered quickly – and with low-latency, co-located data-feeds – appear quickly on your device. This allows you to react to changes almost in real-time – well – as fast as a human can react really.
There is real-time API and historical data available – providing feeds for both individuals and institutions. The site also boasts a range of third-party integrations – such as a Google Sheets plugin, an android and iOS app, a crypto-ticker for your Chrome or Firefox browser and more.
Etoro
eToro – or electronic bull – is a great name for those who understand the bullishness of the stock exchange. The site was built by three entrepreneurs who had a mission to make trading accessible to anyone – mostly by reducing the dependency on traditional financial institutions such as banks.
It describes itself as a social trading platform – which is an interesting distinction from traditional financial exchange forums. This description is due to its OpenBook feature – which is similar to the feed on Facebook and allows you to create your own profile. There is also the CopyTrader facility. This allows you to watch other traders and potentially copy their moves. The idea is that there are over 5 million users of the site all thinking together about how to make a profit. Thanks in part to this feature, eToro won the Finovate Europe Best of Show in 2011.
However, one of the best features of eToro is the free trading tutorials and the pretend $100k you are given to practice trading before you do the real thing. For newbie traders wishing to learn the ropes before laying down capital, this is the cryptocurrency exchange for you.
The graphics are the distinctive asset on the site. From the beginning, eToro has been known for its unique visual representation of the different trades and assets. It has been around since 2007, so early on this represented traditional financial trade, including stocks in 2011 and later copy funds of some of the largest brands. eToro added cryptocurrencies in 2017 – including trade and investment in Ethereum, Ripple, Litecoin and other popular tokens.
Exmo
Exmo is a small UK-based cryptocurrency exchange, however it has team members and investors located around the globe. Exmo is quite small in terms of trade volume, however it supports four fiat currencies. It supports the dollar, euro, rouble and hryvnia (currency of the Ukraine). It also supports Bitcoin, as well as a dozen or more altcoins. The altcoins supported include LTC, DOGE, DASH, ETH, WAVES, ZEC, and many more – including Ripple. This makes it highly competitive, offering more choice than even some of the bigger exchanges.
Buying, selling and exchanging are made super easy on the site. The interface is easy to use and made for beginners. It may lack some of the features and data that seasoned traders might demand, such as margin trading, but newbies will welcome the simple to use interface.
The website is available in 11 different languages and you can deposit to an account from most countrues. However, the legality of trading from the site in certain countries needs to be checked. There is a flat fee of 0.2% no matter what you are doing with the site no matter what currency chosen. There are variable fees for withdrawal dependent on the coin. If depositing USD, you will pat 2% and $20 for a wire transfer. To avoid this you can use PayPal – where it is free – but then you incur a 3% withdrawal fee. It is worth doing the math to work out which is best for you. If paying in Euro you are charged 25 euros.
HitBTC
HitBTC claims to be the most advanced cryptocurrency exchange to buy and sell Bitcoin, Ethereum, Litecoin, Monero, ZCash, DigitalNote and Ardor. It actually offers trades in over 300 coins and tokens in total. The team behind HitBTC are a mix of technical and finance experts – who believe in financial liberty and creating opportunity. It is a company based in Hong Kong but also has support office in Chile.
The major features of this site include the 2FA advanced encryption technology – which helps make transaction safe and secure. To register for the site you must verify your account with the companies compliance team – this added layer of security is actually reassuring – much more so than a simple email verification. They also store the majority of assets in cold storage, whilst maintaining just enough liquidity, meaning traders have peace of mind that their funds are safe from outside influence.
The site is fast and responsive – making it effortless to trade and finally the API works well with trading bots, with low latency data and execution feeds. One of the key positives of this exchange is its friendliness to such bots.
You can choose to trade using the REST-API or get additional features using the FIX interface. The interface includes all the information that a professional trader would hope to see. This is complex at first, but you soon become grateful for the additional information available.
You will pay a 0.1% fee on every market trade but benefit from a 0.1% rebate on LP orders.
LakeBTC
Founded in 2013 in Shanghai, China, as a Bitcoin exchange, LakeBTC is for high-volume traders and professionals in finance. It mostly serves an Asian market. BTC stand for Banking Technology Company – and not as you would imagine a reference directly to bitcoin itself.
Traders only need to verify their account if they are trading with fiat currency – otherwise they may stay relatively anonymous. If seeking fiat currency, you will be expected to provide a full name and address, photo id, mobile phone number, proof of residency and more. Even if you trade unverified in cryptocurrency, there are no limits on the amount that can be traded, however.
The exchange accepts the largest range of fiat currency of any site. From dollar, to yen, to pound, to Euro and beyond. However, you will be expected to register the account to one fiat currency – though it is possible to trade in all currencies. Currently, the site only offers Bitcoin as a virtual currency – though you can trade between fiat currency.
Depositing currency is free. For other services, the fees vary, and it is worth checking these out carefully before submitting a deposit. Wire transfers are particularly expensive – at a cost between $15 and $65 – but there are easier and cheaper ways of managing your deposits. For withdrawal fees there is a three-tier set price – from 0.3% +$5 at 6000BTC moving down in percentage the more you trade – with only 0.1% + $% at above 15000 BTC. There is a 0.2% trading fee.
LakeBTC offer a high standard of customer support and experience – there is something of the exclusive and minimalist appeal to the site that will attract high-end traders.
LocalBitcoins
Localbitcoins is a person-to-person bitcoin trading site based in Helsinki, Finland run by CEO Nikolaus Kangas . It is a site that allows people from different countries to exchange fiat currency for bitcoin. The site has a mission to help everybody connect to the internet economy. It will even show you a map of your local area with pins where there are people who have bitcoin to trade. It is a site with high ideals – hoping to bring financial trades to parts of the developing world where traditional transactions are out of the reach of most of the population.
The site posts advertisements for people wishing to sell bitcoin. The user replies to these advertisements, either agreeing to meet the person to buy the bitcoins with cash or by trading directly using online banking. Once you have bought the bitcoin you can store it in your localbitcoin wallet.
What makes localbitcoin unique is that it is fully decentralised. You will deal only with the other human being who wishes to buy or to sell you bitcoin. You trade directly with this person – rather than through the mechanism of the exchange sit itself. This means the site is both lean and fast, as there is no big corporate machine behind the exchanges. The duration of trades usually only takes a few minutes.
Despite its "local" feel, the site can support every payment method the user community supports. Security is offered in the form of escrow services, which help to protect the buyer of bitcoin from fraud.
Paxful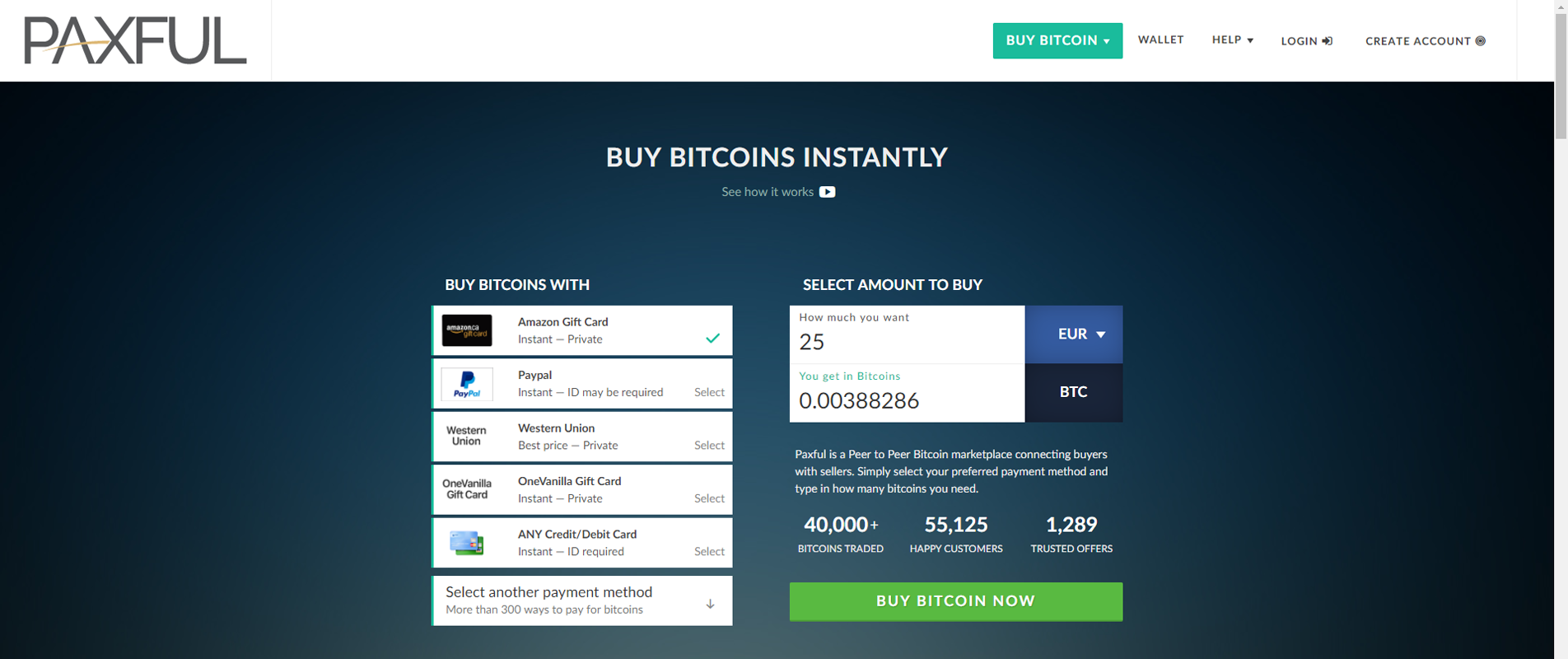 Paxful is a US-based company that was established in 2015 by a group of developers who wanted to create a peer-to-peer marketplace that honoured the original idea of blockchain technology. The vision being decentralised. On the site traders interact with each other using direct communication. In some ways it is similar to the way eBay works – with the trader posting a listing of coins available and someone offering to buy them for a set price, direct from the person listing the offering. The site is merely a mediator and does not get involved directly in the transaction.
This is a popular and user-friendly site – and accepts many different payment methods, such as bank transfer, credit/ debit card, PayPal, Skrill and MoneyGram. you can even use Amazon and iTunes gift cards.
Using the site is easy. You register and then search for the type and amount of currency and the method with which you will pay. You will then see a list of open orders – there will be a number of sellers available. As a user you can check the sellers feedback, the price and the payment method they accept. You will decide if this is a suitable seller for you. If they are, then you press the buy button and make your purchase. This will direct you to an escrow service and a chat option – you submit the money to escrow and talk directly to the seller through the chat option.
Once the trade is finalised and the bitcoins available – then the seller will mark it as paid and the bitcoin will be transferred to the buyer's wallet.
Conclusion
The best possible way to simplify your cryptocurrency investment is to make use of a cryptocurrency exchange, aside from simplifying your trading, these exchangers will ensure that you don't get scammed by traders by exchanging your cryptocurrencies for less value. Crypto exchangers give you the current exchange rate at the particular time you are trading.
When choosing the ideal cryptocurrency exchange platform for your cryptocurrency investment, you need to ensure that you choose the one that is available in your region. While some top crypto exchangers only cater for Europe and North America, you can still find reputable exchangers that cover all other regions such as Asia, Africa, and South America. You need to check the safety of the crypto exchange website, but the transaction fees should be the last factor you should consider.